"This is absolutely massive for me," Mustafa Hamed explains. The 21-year-old from Wigan first came to Britain from Iraq as a child more than 17 years ago in the wake of a bitter war steeped in oil. Today, he is helping to build what will be the world's biggest offshore windfarm off the east coast of England.
Hamed joined Jones Bros Civil Engineering UK, a Welsh engineering firm, as an apprentice last year. He now works as a contractor at the Dogger Bank offshore windfarm, a multibillion-pound energy project by SSE Renewables and the Norwegian energy company Equinor that is due to begin powering millions of British homes by the early 2020s.
"I take it really seriously because it's something that will benefit the world," he says. "I feel very fortunate to be part of this. It feels like every day we're doing things that haven't been done before, progressing towards something really important."
The rise of Britain's offshore wind industry has made the giant turbines dotting its coastlines one of the country's greatest industrial success stories since the discovery of North Sea oil. It has been a rapid ascent, with the transformation from high-stakes gamble to industrial triumph taking place over the last five years.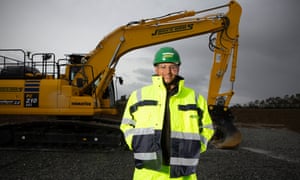 Other renewable technologies are also quietly subverting decades of energy industry dogma. In Nottinghamshire, disused mining sites host tens of thousands of solar panels, while in West Lothian an old open-cast mine has found a second life as the site for an onshore windfarm. Twenty miles away in Edinburgh another defunct colliery is the site of plans to create geothermal heating sourced from underground pools of water left behind after the coal reserves were depleted.