Governments across Europe are failing to protect their citizens from toxic air pollution, with most Europeans still breathing filthy air in their cities, according to data.
Pollutants from farming, domestic heating and vehicles are beyond the levels needed to ensure breathable air within World Health Organization guidelines, despite EU legislation, government pledges and years of campaigning.
Only Ireland, Iceland, Finland and Estonia showed levels of fine particulate matter – one of the most dangerous forms of air pollution – that were below the WHO guidelines in 2018, according to data released on Monday by the European Environment Agency.
Exposure to such pollution caused about 417,000 premature deaths across Europe – including non-EU member states – in 2018.
Hans Bruyninckx, the executive director of the EEA, Europe's environmental watchdog, said: "[Our] data prove that investing in better air quality is an investment for better health and productivity for all Europeans. Policies and actions that are consistent with Europe's zero pollution ambition lead to longer and healthier lives and more resilient societies."
There have been some improvements, but they fall short of the actions needed from governments. The EEA found that 60,000 fewer people died prematurely in 2018 than in 2009 from fine particulate matter pollution.
There may also have been health improvements owing to the coronavirus lockdowns this year, the EEA noted, but further work is required to assess the full impacts. The watchdog said its preliminary data showed there were reductions of as much as 60% in air pollution this spring, confirming other findings.
Studies have found links between high air pollution and increased harm from Covid-19, underlining the need to reduce air pollution.
Green campaigners said governments must act urgently. Margherita Tolotto, the senior policy officer at the European Environmental Bureau, which represents campaigning groups across the EU, said: "How many wake-up calls do government officials need to take on air pollution? Their delay is costing us our health and a safe environment. They know what needs to be done to improve air quality: cleaner energy and industrial production, greener and smarter transport, and sustainable farming."
Emissions of pollutants from vehicles have fallen, though not to the extent required, and emissions from power plants have also tumbled as Europe has moved away from coal power. But cutting emissions from domestic heating, including wood-burning, and from agriculture – including ammonia from manure and fertilisers, which combines with other pollutants in the air to form particulate matter – has proved more of a challenge.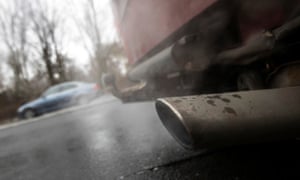 Governments had failed to meet EU targets, the EEA said. Under EU rules, every member state should have submitted a plan for bringing air pollution within health limits in 2018. However, Italy's plan is still at draft stage, while Greece, Luxembourg and Romania have yet to submit any plan.
Virginijus Sinkevicius, the EU's environment commissioner, said progress had been made but called on member states to do more, and promised an action plan as part of the European Green Deal.
"It is good news that air quality is improving thanks to the environmental and climate policies we have been implementing," he said. "But we can't ignore the downside – the number of premature deaths due to air pollution is still far too high. With the European Green Deal we have set ourselves an ambition of reducing all kinds of pollution to zero. If we are to succeed and fully protect people's health and the environment, we need to cut air pollution further and align our air quality standards more closely with the recommendations of the WHO."
Six member states – Italy, Poland, Romania, Bulgaria, Croatia and the Czech Republic – breached the EU's limits for fine particulate matter, called PM2.5, in 2018. The EU limits are less stringent than WHO guidelines. There were 54,000 premature deaths from nitrogen dioxide (NO2) in 2018 in the EU-28, which includes the UK, which was then still a member of the EU. Ground-level ozone caused about 19,000 premature deaths in the EU-28 that year.
The UK government has pledged to bring in new guidelines on air pollution to replace its targets under the EU. The framework legislation for these targets is contained in the environment bill, going through the committee stage in parliament after a long delay. Any new targets will not be set until late 2022 at the earliest, however, after a consultation.
The UK government was repeatedly found in court cases over several years to have breached EU air pollution limits and ministers were ordered by supreme court judges to come forward with plans for reducing air pollution that would meet the targets.