A pod of 10 sperm whales have died on the east Yorkshire coast in what is thought to be the biggest mass stranding of the cetacean in England since records began in 1913.
A rescue operation was launched after the group of juvenile mammals was spotted in shallow water between Tunstall and Withernsea at around 8.30am on Christmas Eve.
On Thursday evening, the British Divers Marine Life Rescue (BDMLR) said all 10 of the whales had died after getting lost off the coast of the UK, where they are rarely seen and were almost certainly looking for food.
The BDMLR said it was not able to try to shepherd the sperm whales out to deeper waters due to the rough sea.
It said that due to their size – males reach around 20 metres of length and weigh up to 80 tonnes – it was not possible to move the whales once stranded and they rarely survive long when on land.
A spokeswoman for the BDMLR said reports of more whales at had been checked and nothing has been found. She said: "We can only hope that there are no more whales still in the area that might yet come ashore. We would like to extend our heartfelt thanks and gratitude to all of our team involved on the ground and behind the scenes in this awful situation today, of all days for it to happen on, as well as our colleagues in the Maritime and Coastguard Agency who have been on scene all day dealing with these tragic and difficult circumstances."
It is thought to be the largest mass stranding of sperm whales off the English coast since 1913.
The most recent event of this scale on England's east coast was in January 2016 when a pod of six sperm whales died after becoming stranded. They were among 30 of the mammals to wash up on coastlines across northern Europe over a period of six weeks.
An investigation into that incident, published in 2018, said the animals had been foraging in Norwegian waters before becoming lost and disoriented in the shallow southern North Sea.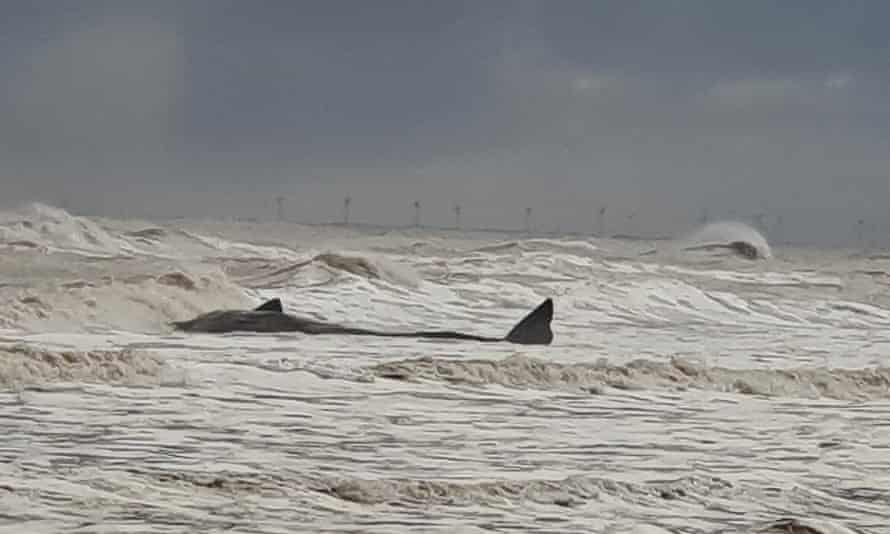 The BDMLR said sperm whales were rarely seen off the UK coast as they usually hunted large or medium-sized squid, diving up to 2,000 metres at a time, but this food was not abundant in the North Sea.
One UK cetacean expert said last month that there had been a proliferation of squid in the North Sea this year, which may have tempted whales into chasing them towards the English coast.
PA Media contributed to this report