You could say that Adrian Iodice is something of a stickybeak neighbour. On Iodice's once-lush bushland property, nestled within the Bega Valley of New South Wales, there stands a majestic rough-barked apple tree that the beekeeper used to, every now and then, jam his head into.
In the hollow of the trunk lived a flourishing wild colony of European honeybees that Iodice had been keeping an eye on for years. "I'd have a chat with them," he laughs. "Stick my head in and see how they're getting on in life. They were very gentle bees; they never had a go at me."
In the wake of the black summer bushfires of 2019-20 that torched his land and home, Iodice's thoughts turned to the abode of his insect neighbours. "So I went over and stuck my head in the hollow as usual, but they weren't there," he says. "A lot of the wax had melted out, with just the residue left. I got quite emotional."
Iodice had been keeping watch on about a dozen wild hives dotted around his property. All were lost to the flames. "Even the trees that survived, the colonies burnt out anyway because of the way hollows act as chimneys in a fire," he says. "All animals in those hollows would have suffered the same fate. To look at the trees still standing, and knowing where those beehives had been … to see no activity whatsoever was quite shocking."
It was a similar story right across the firegrounds of Australia's black summer. The honey industry reported at least 2.5bn honeybees in NSW and Victoria alone were killed in the fires. As Iodice notes, the loss of pollinators such as bees and wasps has profound implications for any ecosystem, let alone one recovering from an unprecedented fire event. "Plants can't get up and run across the paddock to make love to each other; they need bees to transport the pollen," he says. "You're not going to have that regeneration without them – without pollinators there's no ecosystem at all."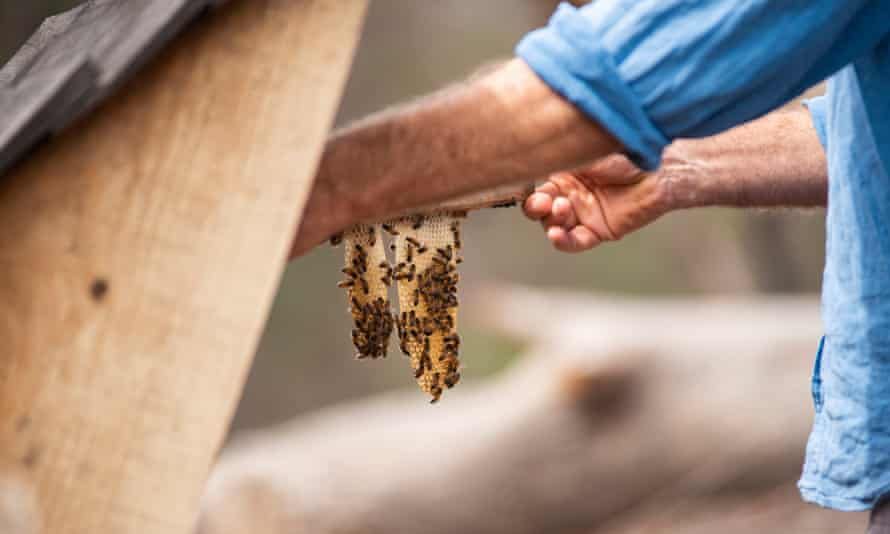 Iodice wanted to do something about it – and he wasn't alone. Local organisations such as Bee Day Australia offered to support his plans for restoration projects. Help also arrived from overseas, with the UK's Natural Beekeeping Trust flying over BoomtreeBees expert Michael Verspuij to help train Iodice in how to build log hives. Armed with that newfound knowledge, Iodice picked over the charred remains of bushland to find logs with the insides burnt just right to be carved into the large cavities that honeybees prefer. "By doing that, we'd stop the honeybees from taking over smaller hollows more suitable for sugar gliders and birds," he says. Iodice and his team hoisted these log hives up into the trees, where they were protected from subsequent disaster events, such as the recent floods that swept through NSW and drowned out ground-level commercial beehives.
Iodice built "bee hotels" for native bees and wasps, and collaborated with Indigenous organisation Back to Country to conduct a healing ceremony in the Bega Valley, where locals planted native plant species to facilitate the return of pollinators.