Muhammad Anwar was not aware of any danger when he took the day off work to join his friends at a demonstration on a construction site of a powerful real estate company.
When Anwar, 35, reached the west bank of Langeji river, near Karachi, earlier this month, he saw the bulldozers levelling land next to Bahria Town, a luxury gated development.
About 100 demonstrators were protesting against what they say is a forceful takeover of indigenous land.
"We asked them to stop working," says Anwar. "They did not. We threw stones on the machinery to stop the work. We were asked to stop proceeding further [or] else they will fire on us. They fired at everyone. As I was in the front row, I got shot."
With a bullet wound to his stomach and facial injuries, Anwar was lucky that his friends got him to hospital. Others, like Jan Sher Jukhio, were taken to the police station by Bahria Town guards. Jukhio says he was beaten with the butt of a gun.
"We gathered to save our lands," says Jukhio. "We were beaten, dragged and in a state of injury we were given to police. I kept screaming to the police: 'we should be taken to the hospital,' but no one paid attention until more people came to the police station."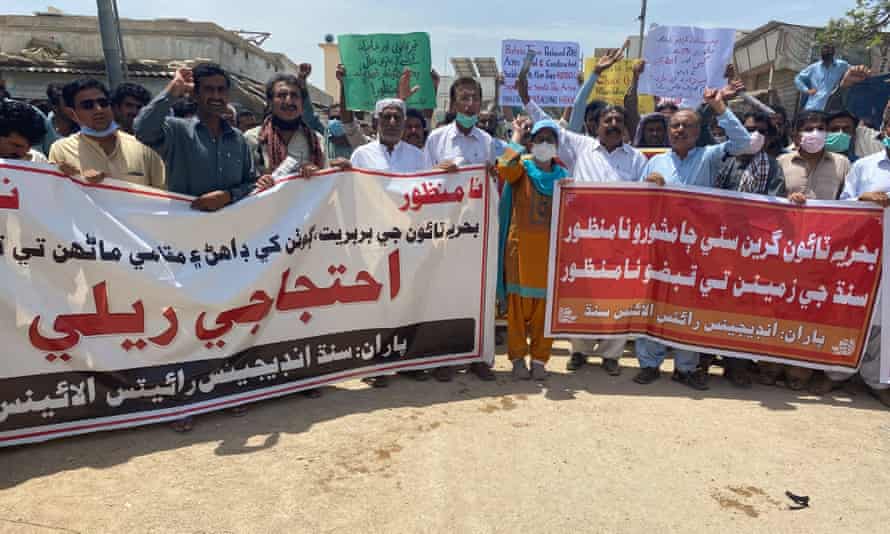 Indigenous communities have opposed the Karachi project since its launch in 2014. The latest clashes began in April as activists resisted work to expand the housing complex into nearby villages.
Activists shared videos on social media with hashtags, including #SayNoToBahriaTown, and criticised the Pakistan People's Party (PPP) and its Sindh provincial government for supporting the real estate giant.