A Nyikina man, Mark Coles Smith, and his fellow travellers began their 400km journey down the mighty Martuwarra (Fitzroy River) on a flood plain covered in giant spiders.
"Bird-sized" spiders were clinging to the canopy, jostling for space on branches protruding above flood water that stretched for kilometres in every direction.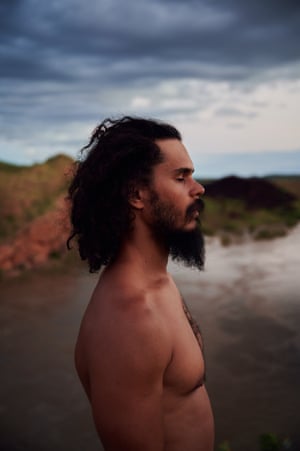 "The first day through the flood plains, I was just totally tense, travelling through these huge corridors of giant spiderwebs, where the spiders could see you coming, and they weren't happy about it either," Coles Smith says, laughing.
Two days of that, he says, became a form of "arachnid exposure therapy". Each morning when they paddled out, the raft was soon covered in them.
"We had some really big, hairy huntsmen crawling all over the raft and they ended up being the easiest to scoot on to a paddle and put on a branch. It got to the point where I was just picking them up with my hand and putting them on the tree.
"I got used to having these giant arachnids crawling up over my neck and on to my helmet, or down my arm while I was rowing. I just learned to accept it because I didn't have a choice."
The spiders were just the start for Coles Smith, an actor, writer and musician, who is from the river country. His mother, Dr Anne Poelina, is chair of the Martuwarra Fitzroy River council of traditional owners.
The 700km-long Fitzroy River is nationally heritage-listed for its environmental and cultural values, and the largest registered Aboriginal cultural heritage site in Western Australia. It is an ancestral being for all the traditional owner groups who belong to the river and its systems, including the Ngarinyin, Warrwa, Bunuba, Gooniyandi, Walmajarri, Mangala and Nyikina peoples.