Between Iowa and Illinois, spanning the only stretch of the Mississippi River that flows from east to west, sits an exhausted 55-year-old cement bridge. Each day 42,000 cars drive across the ageing structure, which is slated to be torn down and replaced.
But when Chad Pregracke looks at the bridge, he has a different vision entirely – not an old overpass to be demolished, but a home for the buffalo to roam.
The conservationist and local hero hails from the Quad Cities, a 300,000-person metropolitan area spanning two states on either side of the Mississippi River. It is named for its four cities: Bettendorf and Davenport in south-eastern Iowa and Moline and Rock Island in north-western Illinois.
Pregracke spends months every year living on barges and cleaning up refuse from the Mississippi, and he has brought his passion for the river to his latest project: converting the ailing bridge into a buffalo preserve. The idea came to him four years ago as he drove across the bridge one day, he says: "I thought, what if we made this a wildlife crossing?"
Now, his unlikely vision is being taken seriously. The departments of transportation in Iowa and Illinois are considering the proposal, which would break ground in as little as five years.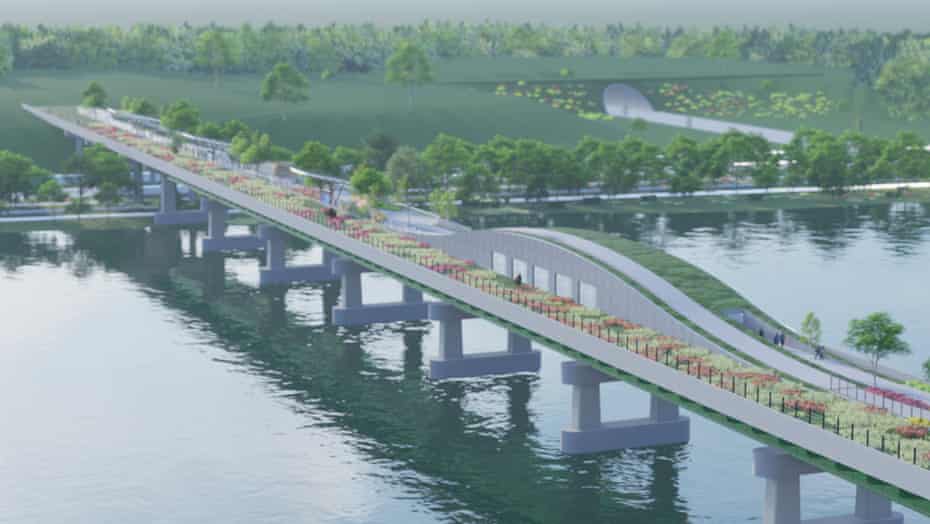 If completed, the bridge would become the longest human-made wildlife crossing in the world. The plan would see a new bridge built further down the river, where car traffic will be rerouted, and the existing bridge converted for use by humans and American bison – colloquially known as buffalo.
On one side would stand a pedestrian path and bike path, and on the other an enclosed bison paddock that would let visitors see eye to eye with the huge creatures. The herds would be free to roam between Iowa and Illinois in the grassy expanse, and the project would establish the first national park in either state.
While in many ways unique, the proposal follows a growing trend of urban renewal projects – perhaps most famously the High Line in New York City, a raised railroad converted into an elevated park. In Chicago, a raised railroad track was also converted into a park and bike trail. In Los Angeles, there have been proposals to convert part of the 101 freeway into a park.
Meanwhile, bison preserves featuring small herds have emerged in various locations across the US, including outside of Denver and in the middle of San Francisco's Golden Gate Park.